Wednesday September 1st, 2010
Before I put up a post about Media Day for 2011, our upcoming 135th year in business, I'd like to introduce you to the past President of W. Atlee Burpee & Co. before me, and the current President after me. On the left (my right) is William "Bill" MacDowell and to the right is Christos "Chris" Romas.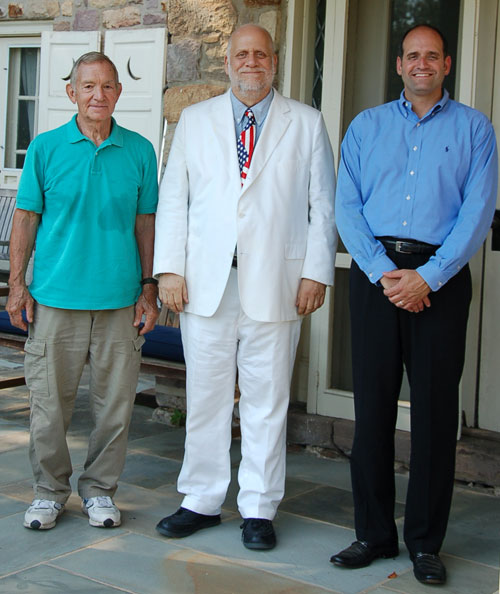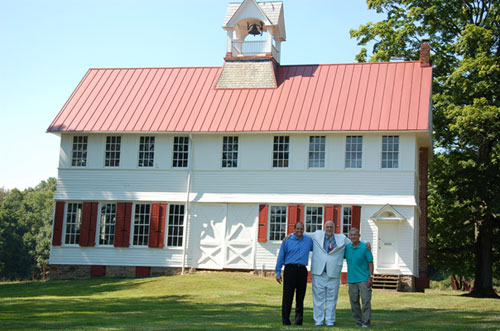 Bill was the General Foods executive who led Burpee—masterfully—after David Burpee retired in 1971 after a 56 year career as President. Huge shoes to fill and Bill did fill them and then some. He brought many innovative marketing ideas to Burpee and established a truly professional management structure that we still have and use today.
Chris has been with Burpee for nearly 20 years and had 17 under his belt when I made him President in 2008. He's the best all-around executive I've ever worked with, and I've worked all over the world.
I'm the guy who forgot to unbutton his suit jacket before wrapping his arms around his two friends' shoulders.
The famous Burpee Seed House has an illustrious history. Built in 1895, it is just about the only true "seed house" left in the region and one of perhaps a dozen left in the world. It was this structure that the United States federal government wanted to grant landmark status, but the Burpee family was not interested. Mrs. Burpee had recently been widowed and understandably didn't want the hassle.
There is a complete but windowless third floor where the large seeded crops, hauled up in large bins by pulley, were dropped down various shutes to "separate out" by weight (blow air across the shaft and the lighter, less viable seed separates from the heavier higher quality seed), and by size and shape by using screens with holes for various size and shapes. This results in a uniformity of the "seed stock" that, like weight, also indicates the seeds' quality. The weight test doesn't always catch the very small or misshaped seeds.
However, the main feature of this barn-like structure is the number of large windows, which a barn never has. Barns are for storage, or the temporary holding of livestock, such as at night. Windows admit light, which decays farm produce and is of no use to animals at night. On the contrary, moonlight and the lightening from thunderstorms can scare them. So—no windows in barns. In fact, most visitors think this is an old school house.
But this is a seed house, where seed was not only graded, but also cleaned and separated by harvest date and location of plot in the seed production fields—all 700 acres of them in the 1890s to the1940s, when Burpee shifted much of its production to the west coast. Multiply these tasks by about 1,000 seed crop species and you have quite a complex operation at seed harvest time, which is usually midsummer to late fall.
So, what happens also at that time of year? Light levels decline and day lengths shorten. And who gets to do "sit down" jobs on a farm? Who has first dibs? That's right: the oldest or most senior employees. And, thirdly, what do you never carry into a building where the air is full of dry leaf and stem dust and the tables and benches are covered with dry natural debris? A lantern or flame of any kind.
Hence, I present to you a seed house. The many windows on all four sides captured light during the waning months of shortening days and long angular sunlight periods. The seed cleaners could work from sun up to sun down. Windows also provided a quick dry down if we had seed from a relatively wet harvest, which happens from time to time. Just open a couple on both sides and you had an instant dry zone. Like newborns, a dry seed is a happy seed.
And, as I said , the windows were perfect for the more senior members of the four crew to see, even with their glasses on, as they did the laborious, close-up evaluating and sorting of lesser and greater quality seeds.
The narrow chimney up the right side next to the sugar maple was for a pot-bellied stove used during the winter in order for the interior temperature to remain within a stable range in order to keep the seed viable. Since the cleaning was done by then, and the dormant ("sleeping") seed was stored in bags or heavy metal drums, there was no danger of fire as during the harvest season. The stove was also within warming distance of a small desk where a couple of clerks would continue paperwork, entering information about test results and generally keeping an eye on things.
The twin doors were where the wagons entered with the field-gathered seed, which was still dirty, just not yet dusty. Most, but not all, species had been de-hulled in the outdoors.The mules pulled the wagons all the way through, like a "drive-through". There is the exact same set of doors (and windows) on the back side. The small door off Mr. MacDowell's shoulder is the only sign that this is the front of the seed house.
The belfry used to signal beginning and end of work, four times a day. The slate housing the belfry is the same "blue slate" that covered the entire roof until it became so costly to maintain that I replaced it with thin metal that has a nice red coat. The roof color actually matches the red of the shutters during the rest of the day, but this is about 2pm on a very clear day.
We shall be open for 2011 with public events at Fordhook Farm during the late spring through early fall. As I have said before, we needed a bit of a rest for 2010, as well as time to dream up some truly interesting events for 2011.
I'll post about the rest of Media Days soon.
This entry was posted on Wednesday, September 1st, 2010 at 4:48 pm and is filed under
Original Posts
. You can follow any responses to this entry through the
RSS 2.0
feed. Both comments and pings are currently closed.